Welcome to Richard Morris Guitar Tuition
Richard is an experienced acoustic and electric guitar teacher based in Felpham, Bognor Regis, West Sussex who takes great pleasure in teaching beginners and improvers alike the music they enjoy.
Contact Me
Click on the images below or use the menu to go to your school's login page or find out more about private tuition.
About Richard
Richard Morris has been teaching guitar full time for over ten years now, is D.B.S. certified and teaches guitar mainly in schools. From beginners to advanced, teaching adult education classes to individual one to one lessons, teaching a range of styles on acoustic or electric guitar including rock, blues, classical, jazz and metal. He has a Diploma in Jazz Studies and is grade 6 classical guitar. Lessons are taught in schools or in his home in Felpham in a comfortable, well-lit room.
Having guitar lessons with Richard, you will learn:
How to tune a guitar
Correct left and right-hand technique
Simple chords for simple songs
Simple, basic but effective rhythm patterns
Tight timekeeping
Solos and riffs from your favourite songs
Barre chords
Improvisation, how to play along with other musicians and make up your own solos
How to use the guitar to accompany your voice
Courage to perform in that open mic night you've only been watching
Fingerpicking; classical, folk and country style
Scales, arpeggios, harmony, keys and other theory
Fingerboard knowledge
Notation and TAB reading
Preparation for guitar grades
Extended chords and jazz harmony
Modes and modulation
Shredding, tremolo picking and tapping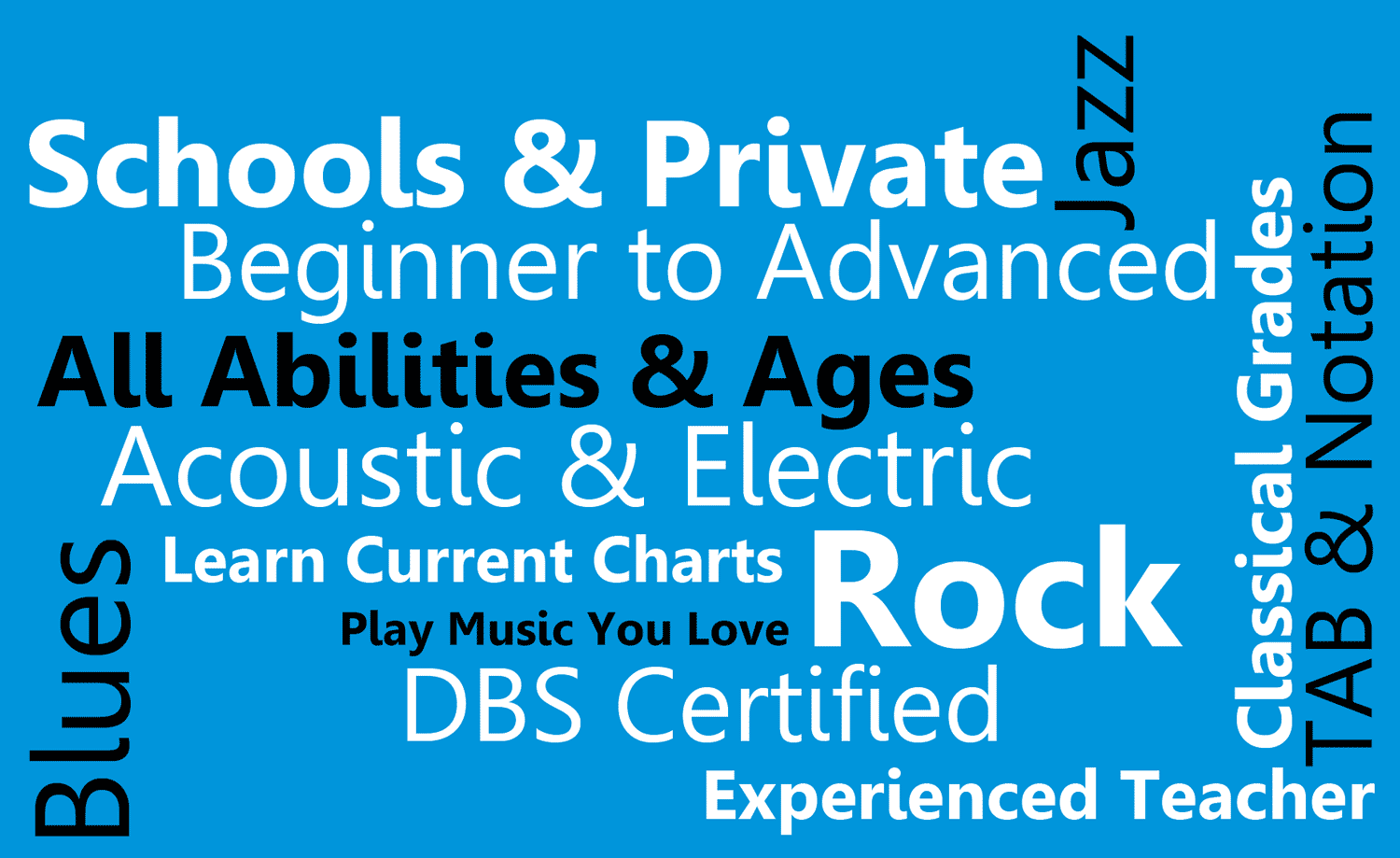 Click the videos below to watch a few of Richard's Students play…
Buy Lesson Vouchers
Give the gift of music!
Lessons are a perfect gift for anyone who wants to learn Guitar or Ukulele. 
Prices start at just £16 for one lesson and you can buy just one lesson or 100!
Plus, if you have left it a bit late, don't worry as these vouchers are available for download or email immediately after payment.
Buy Now